TRUCKERS NEWS
January 2000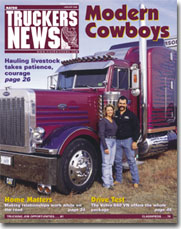 Donna Pierce writes, "One of the most frightening moments of Earl Peterson's life occurred in the winter of 1997. He and his wife, Debbie, were leaving Cheyenne, Wyo., to pick up cattle in Montana when a gust of wind pushed his trailer onto the shoulder of the highway. The Petersons, of Liberal, Kan., had already laid over one night and afternoon because of the wind and wanted to make up time.
Earl owns Earl Peterson Trucking and leases to National Carriers of Liberal. He says there were about 80 cow trucks parked at the truckstop in Cheyenne, a sure sign that the wind was rough. 'He doesn't get scared much when he drives,' Debbie says. 'He was over there going 'whoa, whoa, whoa,' and I knew it was time to get worried. It was quite a scare.' The driver of an approaching Wal-Mart truck called Earl over the CB radio and told him he would ride beside them to block the wind. He rode beside the Petersons for 80 miles until the wind died down. 'He probably saved our lives,' Debbie says. "
The article goes on to cover "Difficult Cargo", "Loading Challenges", "Experts Advice", and "New Equipment". Ms. Pierce spent an entire day with the Peterson's, paying special attention to getting to know them. For the complete article visit Truckers News. See Truckers News 4/00 for follow up letters to the editor.