TRUCKERS NEWS
December 1999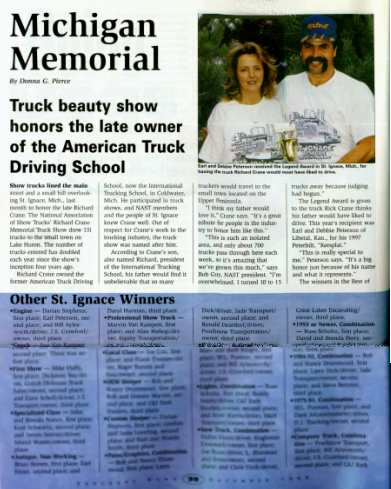 Earl and Debbie Peterson appear here on page 30 of the December '99 issue of TRUCKERS NEWS. They received the Legend Award in St. Ignace, Michigan for having the truck Richard Crane would most have liked to drive.

Author of the article, Donna G. Pierce, writes, "Richard Crane owned the former American Truck Driving School, now the International Trucking School, in Coldwater, Mich. He participated in truck shows, and NAST members and the people of St. Ignace knew Crane well. Out of respect for the Crane's work in the trucking industry, the truck show was named after him. 'This is really special to me,' Peterson says. 'It's a big honor just because of his name and what it represents.'"

The Peterson's also took 2nd Place in Conventional Bobtail ('93 or newer), and Engine Class, and 3rd Place in Lights (Bobtail).