Nov. 22-Dec. 5, 1999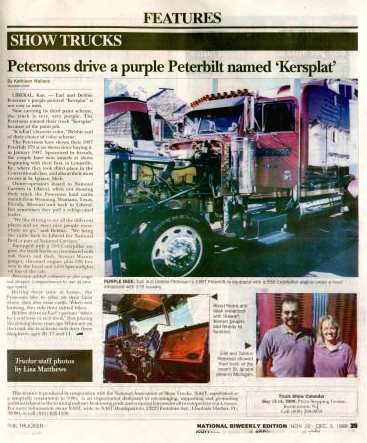 Kersplat was chosen as the Show Trucks feature story in the November 22-December 5, 1999 issue of The Trucker. In the article, author Kathleen Wallace writes, "Now carrying its third paint scheme, the truck is very, very purple. The Peterson's named their truck 'Kersplat' because of the paint job. 'It's Earl's favorite color,' Debbie said of their choice of color scheme." Wallace explains some of Kersplat's details "Equipped with a 550 Caterpillar engine, the truck has been customized with oak floors and dash, Stewart Warner gauges, chromed engine plus 576 louvers in the hood and LED Spectralights on top of the cab. Peterson added cabinets to the original sleeper compartment to use as storage space."
Wallace adds, "...when not showing their truck the Peterson's haul cattle mainly from Wyoming, Montana, Texas, Florida, Missouri and back to Liberal. 'We like driving to see all the different places and we meet nice people everywhere we go.' said Debbie."