Earl Peterson Trucking Information:

Earl and Debbie Peterson are modern cowboys, raising and hauling cattle out of Southwest Kansas. Earl brings 15 years of experience to the trucking industry, hauling both livestock (mostly cattle) and freight with his 1997 Peterbilt 379. Debbie learned to drive the truck 3 years ago and helps Earl drive as much as she can. Together, the two make a great team!! On the home front, the Peterson's get a lot of help from their girls, Kirsten, Michelle and Nicole. Take a look at the family!
The Truck:
"On the side", that term being used loosely, Earl and Debbie attend truck shows with their Peterbilt which they have named "Kersplat". This customized beauty got its name from its paint job. It looks like it was hit with a huge paint ball, which is also the effect of the background chosen for this web site. Some of the truck shows the Peterson's have attended include: Overdrive Pride & Polish, Shell Super Rigs, NAST, and the Richard Crane Memorial Truck Show. Take a look at all of the awards!
Kersplat has made Earl and Debbie proud with the awards it has received for custom paint and graphics, engine, lights, and interior. The Peterson's and their prize-winning Peterbilt have appeared in several issues of Truckers News, in addition to Road King, The Trucker, Movin' Out, and other publications. Kersplat was honored to be chosen for the 1999 Shell Super Rigs calendar and was chosen for the CAT Scale Super Trucks collector's card.
See all the details on the Truck Shows, Pictures and Publications pages!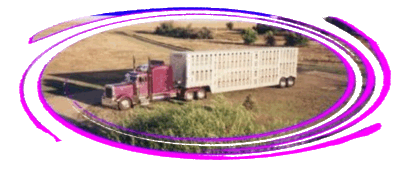 Contact Information
Although the Peterson's live and operate out of Southwest Kansas, they are able to haul anything, coast to coast all over the United States. Please feel free to call or e-mail for rates!
Telephone

(316)624-0508

Postal address

Rt 1 Box 157, Liberal, Kansas 67901

Electronic mail

Earl & Debbie: phooey@midusa.net
General Information: info@kersplat.itgo.com
Webmaster: webmaster@ginasis.com